Tesoro Restaurant
18 Schoolhouse Ln., Collingwood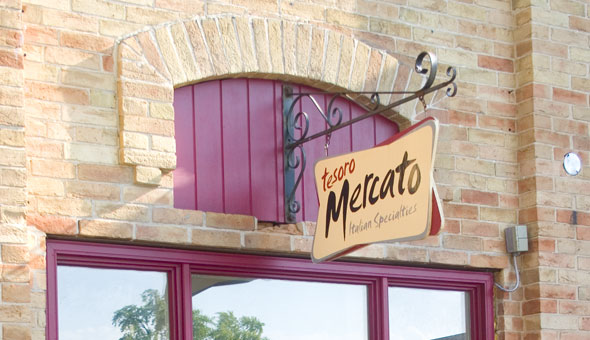 About Tesoro Restaurant:
Tesoro Restaurant at 18 Schoolhouse Ln. just south of 2nd St. and off Hurontario St. in downtown Collingwood.
Tesoro features an Italian menu including pasta, salads, fresh seafood and gourmet thin crust pizza. Wheat-free/gluten free pasta and soy mozzarella are also available. Tesoro also caters private functions from parties of 10 to 100.
Afterwards, consider picking-up some home-made entrees at Tesoro Mercato or some desserts at Avalanche Homemade Gelato, both sharing the same space as the restaurant.
Note: Tesoro is usually closed Sunday, unless a Holiday weekend.
Cuisines:
Features:
Amenities:
---
Contact Info.:
18 Schoolhouse Ln., Collingwood

---
Hours Of Operation
| Day | Hours |
| --- | --- |
| Mon. | 11:00am 9:30pm |
| Tues. | 11:00am 9:30pm |
| Wed. | 11:00am 9:30pm |
| Thur. | 11:00am 10:00pm |
| Fri. | 11:00am 10:00pm |
| Sat. | 11:00am 10:00pm |
| Sun. | Closed |
---
Places Nearby
Prime Seven Nine
79 Hurontario St, Collingwood
80 M
---
Azzurra
100 Pine St., Collingwood
90 M
---
The Huron Club
94 Pine St, Collingwood
90 M
---
Duncan's Cafe
60 Hurontario St., Collingwood
90 M
---
Espresso Post
139 Hurontario St., Collingwood
130 M
---
Moguls Billiards Bar & Grill
32 Simcoe St, Collingwood
130 M
---
The Olde Red Hen Restaurant
146 Hurontario St., Collingwood
160 M
---
Fish & Sips
206 Hurontario St, Collingwood
290 M
---
Brunello's At 27 On Fourth
27 Fourth Street East, Collingwood
390 M
---
Beaver and Bulldog Sports Bar and Wingery Collingwood
195 First St., Collingwood
490 M
---