Bamboo Terrace Chinese Food
61 Hurontario St., Collingwood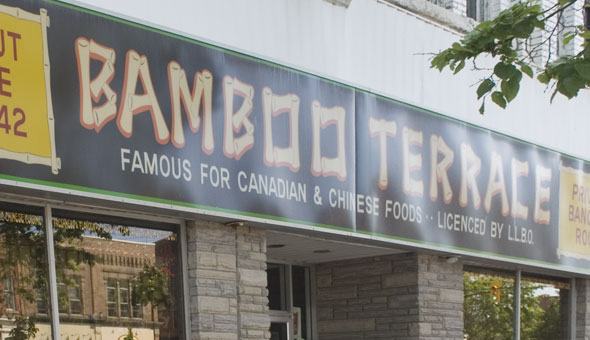 About Bamboo Terrace Chinese Food:
Sorry, This Bamboo Terrace Chinese Food Location Has Been Reported Closed.
Closed
Bamboo Terrace Chinese Food is an Asian restaurant on Hurontario St. north of Second St. in Collingwood. Since 1969 Collingwood's Bamboo Terrace has been serving locals and tourists with authentic Chinese cuisine made fresh from local ingredients. Take-out is available as and delivery Blue Mountain, Wasaga Beach and Collingwood are available.
Type:
Cuisines:
Services:
Amenities:
---
Contact Info.:
61 Hurontario St., Collingwood

Phone: 705.252.9464
Website:
---
---
Places Nearby
Duncan's Cafe
60 Hurontario St., Collingwood
20 M
---
Moguls Billiards Bar & Grill
32 Simcoe St, Collingwood
100 M
---
Tesoro Restaurant
18 Schoolhouse Ln., Collingwood
110 M
---
The Huron Club
94 Pine St, Collingwood
160 M
---
Espresso Post
139 Hurontario St., Collingwood
220 M
---
The Olde Red Hen Restaurant
146 Hurontario St., Collingwood
250 M
---
Beaver and Bulldog Sports Bar and Wingery Collingwood
195 First St., Collingwood
500 M
---
FireHall Pizza Co.
162 Jozo Weider Blvd., Blue Mountains
7.3 Km
---
Tholos Greek Restaurant
170 Jozo Weider Blvd., Unit 33, Blue Mountains
7.4 Km
---
Copper Blues Bar and Grill
156 Jozo Weider Blvd., Blue Mountains
7.7 Km
---