Simply Tea and Chocolate
151 Dunlop St E, Barrie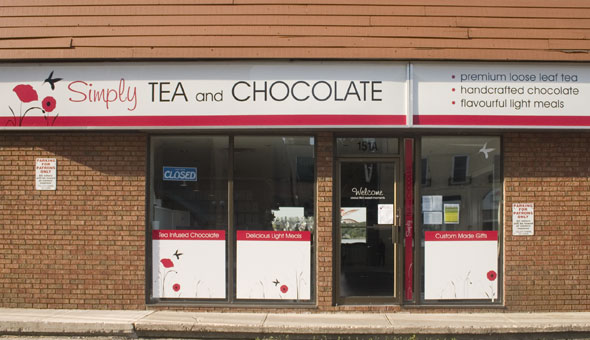 About Simply Tea and Chocolate:
Sorry, This Simply Tea and Chocolate Location Has Been Reported Closed.
Closed
Simply Tea and Chocolate is at 151 Dunlop St. E. at the intersection with Mulcaster St. in downtown Barrie.
Simply Tea and Chocolate has over 40 varieties of premium loose-leaf teas including black, green, white and oolong (traditional Chinese). As well there are varieties including caffeine-free herbal tea infusions include rooibos, fruit blends and wellness brews. All teas are available served hot, iced and or packaged by the gram.
They also make handcrafted chocolate including classic truffles, ice wine truffles and dipped chocolates their signature items include green tea truffles and Earl Grey infused truffles.
As well as teas and chocolates at Simply Tea, you can enjoy a selection of delicious soups, health-conscious sandwiches and fresh baked favourites.
Type:
Cuisines:
Services:
Amenities:
---
Contact Info.:
Phone: (705) 727-0220
Website:
---
---
Places Nearby
Pizzeria Italia Restaurant
18 Mulcaster St, Barrie
60 M
---
Shirley's Bayside Grille
150 Dunlop St. E., Barrie
70 M
---
Akira Japanese Cuisine
17 Mulcaster St., Barrie
90 M
---
Gallery Café (Maclaren Art Centre)
37 Mulcaster St., Barrie
120 M
---
The Queen's Hotel
94 Dunlop St. E., Barrie
150 M
---
Groovy Tuesdays Bistro
73 Collier St., Barrie
160 M
---
Mcreilly's Pub & Resturant
82 Dunlop St. E., Barrie
170 M
---
Casa Cappuccino
91 Dunlop St E, Barrie
170 M
---
Hooligans
66 Dunlop St E, Barrie
210 M
---
Grilled Cheese Social Eatery
53 Dunlop St. E., Barrie
290 M
---