Groovy Tuesdays Bistro
73 Collier St., Barrie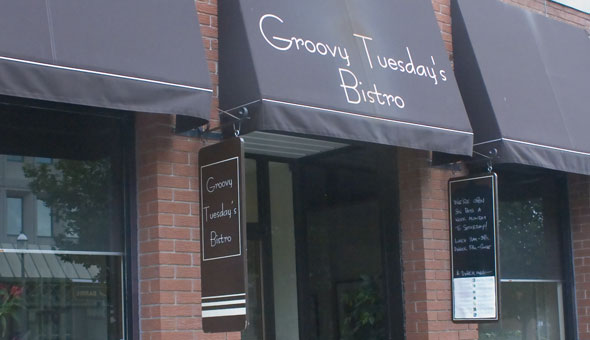 About Groovy Tuesdays Bistro:
Groovy Tuesdays Bistro is an Italian restaurant at 73 Collier St. near the waterfront in downtown Barrie.
The open concept kitchen enhances the memorable dining experience in the intimate 30-seat dining room adorned by local artwork provided by local artists. Four artists are featured per year. Because of the restaurant's unflagging commitment to the best possible and locally produced ingredients, menus at Groovy Tuesday's are written seasonally and are accompanied by a wine list which offers a wide range of exclusive labels by the glass.
Type:
Cuisines:
Services:
Amenities:
---
Contact Info.:
Phone: 705-721-0302
Website:
---
Hours Of Operation
| Day | Hours |
| --- | --- |
| Mon. | 11:00am - 10:00pm |
| Tues. | 11:00am - 10:00pm |
| Wed. | 11:00am - 10:00pm |
| Thur. | 11:00am - 10:00pm |
| Fri. | 11:00am - 11:00pm |
| Sat. | 5:00pm - 11:00pm |
| Sun. | Closed |
---
Places Nearby
Gallery Café (Maclaren Art Centre)
37 Mulcaster St., Barrie
100 M
---
Akira Japanese Cuisine
17 Mulcaster St., Barrie
110 M
---
Shirley's Bayside Grille
150 Dunlop St. E., Barrie
130 M
---
Pizzeria Italia Restaurant
18 Mulcaster St, Barrie
140 M
---
The Queen's Hotel
94 Dunlop St. E., Barrie
240 M
---
Mcreilly's Pub & Resturant
82 Dunlop St. E., Barrie
260 M
---
Casa Cappuccino
91 Dunlop St E, Barrie
260 M
---
Hooligans
66 Dunlop St E, Barrie
300 M
---
Harbour View Inn
1 Berczy St., Barrie
350 M
---
Grilled Cheese Social Eatery
53 Dunlop St. E., Barrie
380 M
---