CC Bistro & Catering
610 Huronia Rd., Unit 9, Barrie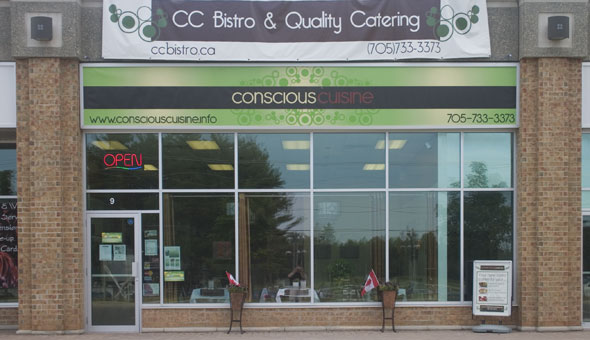 About CC Bistro & Catering:
Sorry, This CC Bistro & Catering Location Has Been Reported Closed.
Closed
CC Bistro & Catering is a restaurant at 610 Huronia Rd., Unit 9 in the plaza just south of the intersection of Mapleview Dr. and Huronia Rd. in south Barrie.
They Have a Passion for Creating Flavour Sensations & Express that with their Ever-Changing Menu + Chef's Specials.
Their Tweaked Fresh Recipes are designed to Make each bite a Memorable Occasion.

They Offer a Cozy Bistro Atmosphere, Good Food + Good Drink!
Always Vegetarian & Gluten Free Choices.
Many In House Made Desserts to choose from.
They also bring the same Expertise to Catered Events & Business Gatherings & Provide an extensive, Bake to Order Service which includes Traditional Birthday Cakes, Fancy Cupcakes & Many Gluten Free choices as well.
Cuisines:
Features:
---
Contact Info.:
610 Huronia Rd., Unit 9, Barrie

---