Casa Mia Restaurant
88 Dunlop St. W., Barrie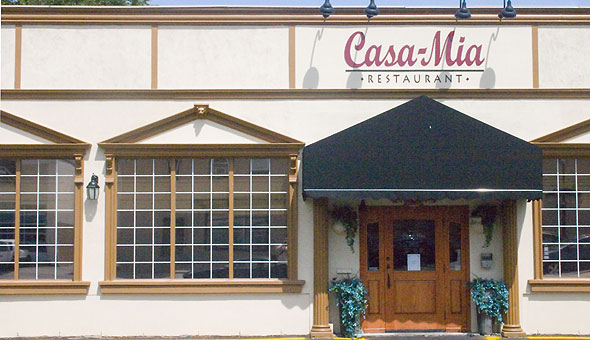 About Casa Mia Restaurant:
Casa Mia is a Greek and Italian restaurant at 88 Dunlop St. W. near Toronto St. in downtown Barrie.
In business since 1992, Casa Mia Restaurant is a casual dining family Greek and Italian restaurant that serves up delicious Mediterranean dishes seven days a week. In addition to dining-in, Casa Mia offers take-out and delivery. Casa Mia features a large 150-person dining room, and reservations are available.
Type:
Cuisines:
Services:
Amenities:
---
Contact Info.:
Phone: 705.737.3663
Website:
---
Hours Of Operation
| Day | Hours |
| --- | --- |
| Mon. | 11:30am - 9:30pm |
| Tues. | 11:30am - 9:30pm |
| Wed. | 11:30am - 9:30pm |
| Thur. | 11:30am - 9:30pm |
| Fri. | 11:30am - 10:00pm |
| Sat. | 4:00pm - 10:00pm |
| Sun. | 4:00pm - 9:00pm |
---
Places Nearby
Continental Specialties and Imports
126 Dunlop St. W., Barrie
190 M
---
Arabesque Foods Of The Middle East
43 Maple Ave, Barrie
200 M
---
The Foxx Lounge Rock Bar & Hotdoggery
16 Dunlop Street E., Barrie
250 M
---
Painters Hall
17 Clapperton St, Barrie
290 M
---
Nino's Italian Restaurant
298 Blake St., Barrie
290 M
---
Bourbon Street
31 Bayfield St., Barrie
300 M
---
The Ranch Bar
56 Bayfield St., Barrie
320 M
---
Mulholland Catering
6 Mulholland St., Barrie
330 M
---
Il Buco Ristorante
31 Dunlop St E, Barrie
360 M
---
The Johnson's Residence
34 Dunlop St E, Barrie
370 M
---