Andy's Place
19 Hart Drive Barrie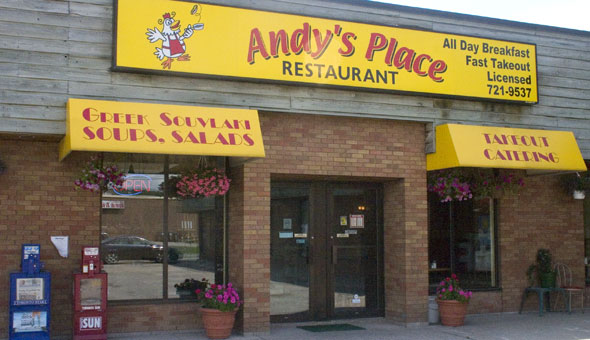 About Andy's Place:
Sorry, This Andy's Place Location Has Been Reported Closed.
Andy's Place is located at #107, 19 Hart Dr. just off of Dunlop St. near Hwy 96 in Downtown Barrie.
Andy's Place is open daily from 6 am weekdays (7 on Sundays) for breakfast, lunch and dinner. They have daily specials such as hot beef, fish and chips, lasagna and an all-day-breakfast.
Type:
Cuisines:
Services:
Amenities:
---
Contact Info.:
Phone: 705.721.9537
Website:
---
---
Places Nearby
Travelodge Barrie on Hart
55 Hart Dr., Barrie
210 M
---
The Italian Bakery
200 Wellington Street W., Barrie
520 M
---
Crossover's Entertainment Lounge
428 Dunlop St. W., Barrie
960 M
---
Mulholland Catering
6 Mulholland St., Barrie
1.1 Km
---
Malones Pint House
118 Bradford St, Barrie
1.1 Km
---
Continental Specialties and Imports
126 Dunlop St. W., Barrie
1.2 Km
---
Casa Mia Restaurant
88 Dunlop St. W., Barrie
1.3 Km
---
Arabesque Foods Of The Middle East
43 Maple Ave, Barrie
1.5 Km
---
Mary Brown's (Essa Rd.)
221 Cundles Rd. E., Barrie
1.6 Km
---
The Dragon Restaurant
70 Essa Rd., Barrie
1.6 Km
---